Jim's End of Lease Cleaning Checklist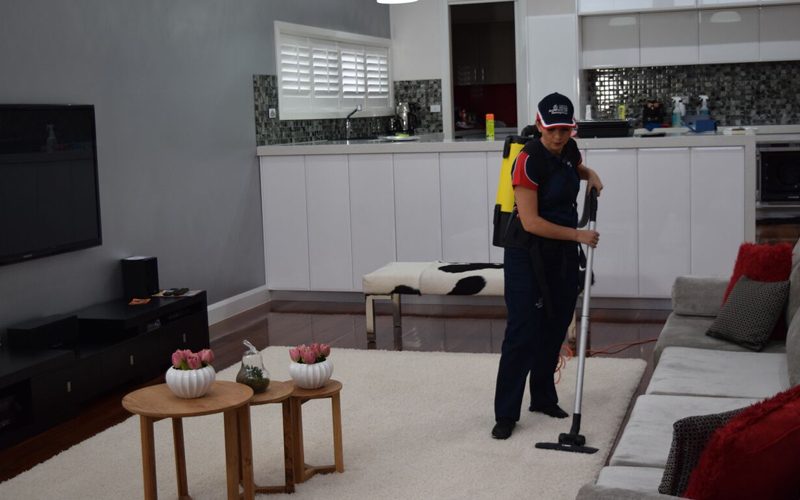 As the end of your lease approaches, it's vital to ensure that you leave your rental property in good condition. Not only is this a courtesy to your landlords, but it will also help you get your full security deposit back. To make the cleaning process as easy as possible, focus on one room at a time and work from top to bottom. If you need extra assistance,
Jim's Cleaning
can provide professional, in-depth
cleaning services
that leave the building looking its best. We can handle it all, including carpet cleaning, stain removal, upholstery cleaning and blind repairs. To help you get started, we've put together the ultimate end-of-lease cleaning checklist that covers everything you should keep in mind during a deep clean. By following these end-of-lease cleaning tips for your interior and exterior, your rental property will be sparkling clean when you move out.
General end-of-lease cleaning tips
Make a plan — The first step is to create a cleaning schedule. This will help you stay organised and keep track of your progress.
Start early — Don't wait until the last minute to start cleaning. The sooner you get started, the less overwhelmed you'll feel.
Work from the top — Begin by dusting ceiling fans and high surfaces, then move on to lower surfaces like countertops and cabinets. Do the vacuuming and mopping of floors last.
Don't forget the details — Make sure to clean light fixtures, doorknobs and other small details you may easily overlook.
Get some help — Ask friends or family members to help you with the cleaning. Having extra hands will make the cleaning faster.
Safety guidelines for your rental cleaning checklist
Cleaning your home can be a dangerous activity if you're not careful. Every year, there are thousands of injuries from people using cleaning products and chemicals. To stay safe, it's important to follow some basic safety guidelines:
Always read the labels on cleaning products before using them. Many cleaning products contain dangerous chemicals that can cause skin irritation, burns or respiratory problems if they're inhaled.
Make sure you're using the product in a well-ventilated area, and always wear gloves and a mask when handling potentially hazardous chemicals.
Be sure to keep all cleaning products out of reach of children and pets.
Following these simple safety tips can keep you and your family safe while keeping your home clean.
Interior cleaning end of lease checklist
Start by getting rid of anything you don't need. This will make cleaning more manageable.
Wash all windows, both inside and out. You may need a ladder for hard-to-reach areas.
Dust all surfaces and vacuum the floor thoroughly. Be sure to move furniture so that you can reach all areas. If there are any stains on the carpet or upholstery, treat them with a stain remover before vacuuming.
Wipe down all surfaces, including inside drawers and cupboards. If possible, shampoo the carpets or have them professionally cleaned.
Focus on areas that tend to get neglected, such as under the bed or behind the dresser.
Wash all bedding, including pillowcases and blankets.
Don't forget to empty all the garbage cans before you leave.
Exterior cleaning bond cleaning checklist
Start by pressure washing the outside of the home. This will remove any dirt, grime or debris built up over time.
Focus on cleaning any windows or glass doors. Be sure to use a cleaner specifically designed for glass, as this will help to prevent streaking.
Sweep the porch and walkways. A quick sweep will help to remove any loose dirt or gravel, making it easier for the new occupants to move in.
If your porch is made of wood, use a mild detergent and avoid using too much pressure — you don't want to damage the wood. For concrete or stone porches, you can use a garden hose or power washer on a low setting.
Kitchen cleaning vacate clean checklist
Clear off countertops and declutter cabinets. This will make it easier to clean surfaces and reach those pesky spots at the back of the cabinet.
Start with the big appliances — the fridge, oven and dishwasher. Clean the exterior surfaces and empty the inside of the fridge. Then, deep clean the stove and dishwasher according to the manufacturer's instructions.
Wipe down all of the cabinets, both inside and out. If there are any stubborn stains, try using a mix of baking soda and vinegar.
Scrub the sink until it shines. Don't forget to clean under the sink as well!
Wash all of the dishes, pots and pans. If possible, put them away before you leave so that the next tenant doesn't have to deal with them.
Sweep and mop floors. Pay extra attention to corners and areas under appliances where dirt and dust accumulate.
Bathroom and laundry room end of lease clean checklist
Start by decluttering. Get rid of any items you don't need or are in poor condition. This will make cleaning easier and help you avoid leaving anything behind.
Make sure to give your toilet a good scrub. Use a toilet brush to scrub the bowl and under the rim, then flush to rinse away any cleaner.
Wipe down the countertop and sink basin with a multi-purpose cleaner, then scrub any stubborn dirt or stains with a toothbrush.
When cleaning the bathtub or shower, spray the entire area with an all-purpose cleaner, then use a sponge or brush to scrub away any soap scum or dirt.
Don't forget to clean behind and under appliances. This is often one of the dirtiest areas in a bathroom or laundry room.
Once everything is clean, carefully dry all surfaces well to prevent mould and mildew growth.
Pet stains and odours end of lease checklist
Many people love pets but don't always love the messes they make. Your pet's accidents can leave behind stains and odours that are tough to remove. Before you exit, this cleaning checklist can help you remove pet stains and odours quickly and easily.
Act quickly. The longer a stain sits, the harder it will be to remove. Blot up as much of the mess as possible with a clean cloth, then apply a pet-specific cleaner to the area.
If you don't have a pet-specific cleaner on hand, you can use white vinegar or baking soda. Just be sure to test these solutions in an inconspicuous spot first to make sure they won't damage your carpet or upholstery.
Once you've applied the cleaner, blot the area again with a clean cloth and allow it to air dry.
For stubborn odours, try sprinkling the area with baking soda and letting it sit overnight before vacuuming it in the morning.
Walls and carpets end of lease checklist
Many people dread the thought of cleaning their carpets and walls, but it doesn't have to be a daunting chore. In fact, with a bit of know-how and the right tools, you can get your carpets and walls looking spotless in no time. If it's time to vacate, this cleaning list for walls and carpets can help you out:
Always vacuum your carpet before you start scrubbing. This will help to loosen any dirt or debris lodged in the fibres.
Next, choose a gentle cleanser — you don't want to use anything too harsh or abrasive as this could damage your carpet.
When you're ready to start scrubbing, focus on one section at a time and work your way around the room. Be sure to rinse the area thoroughly when you're finished.
For cleaning your walls, here are a few simple steps that can make the job easier:
Start by dusting the walls with a soft cloth to remove any surface dirt or grime.
Next, choose a mild cleanser and apply it to the wall using a sponge or cloth.
Once you've gone over the entire surface, rinse the area with clean water and allow it to air dry.
If you encounter tough stains or you're short on time, you may need to contact a professional for extra assistance.
The benefits of hiring a professional cleaning service
Ending a lease can be a stressful time. Not only do you have to move all your belongings out of your rental unit, but you also have to make sure the space is clean and presentable for the next tenant. Many landlords require professional cleaning services to clean their units after tenants move out — and for good reason. There are several benefits to using these services:
Professional cleaners are experienced in providing deep cleans that remove all dirt, dust and grime from a unit. This can help you avoid any fees or deductions from your security deposit.
Experienced cleaners can save you time and hassle by taking care of the cleaning for you. This can be especially helpful if you are moving out of state or have a limited time frame to move out of your unit.
A professional cleaning service can give you peace of mind knowing that experts are handling everything and that your unit will be spotless for the next tenant.
Jim's Cleaning end of lease services
We understand how strict landlords can be regarding the return of rental deposits. Because of those stringent regulations, we work to ensure the highest standard of workmanship is provided with each job we complete. Our cleaning technicians are professionally trained, fully insured and police checked for your peace of mind. We can handle a range of
house cleaning services
, including:
Stain removal
Blind cleaning and repairs
Upholstery cleaning
And other cleaning services
If you're in a rush and looking for the most efficient way to clean your home at the end of the lease, our expert home cleaning service is the perfect solution for you. We can tackle every item on your moving out cleaning checklist, so you don't have to!
Contact us for an end-of-lease cleaning quote at Jim's Cleaning Group
Are you looking for a professional and reliable end-of-lease cleaning service? Contact us today at 0800 454 654 to
request a customised cleaning quote
. We have over two decades of experience in the industry and can help make your move-out process as smooth and stress-free as possible. Let us take care of everything so you can focus on your new journey!